1.
A bar of mass M and length L is hanging from point S as shown in figure. The Young's modulus of elasticity of the wire is Y and the area of cross-section of the wire is A. Find total elongation in bar.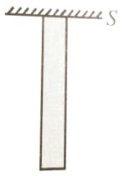 1.  
2.  
3.  
4.  
2.
An automobile of mass m accelerates, starting from rest, while the engine supplies constant power P, its position and velocity changes w.r.t time as-
1.
2.
3.
4.
3.
The 9 kg block is moving to the right with a velocity of 0.6 m/s on a horizontal surface when a force F, whose time variation is shown in the graph, is applied to it at time t=0. Calculate the velocity v of the block when t=0.4s. The coefficient of kinetic friction is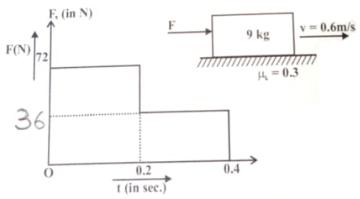 1.  0.6 m/s
2.  1.2 m/s
3.  1.8 m/s
4.  2.4 m/s
4.
A point moves in a straight line under the retardation . If the initial velocity is u, the distance covered in 't' second is-
1. aut
2.
3.
4.
*If above link doesn't work, please go to test link from where you got the pdf and fill OMR from there
CLICK HERE
to get FREE ACCESS for 2 days of ANY NEETprep course