1.
How many characteristics are present in bryophytes from the following?
a. Rhizoids are unicellular or multicellular.
b. the sporophyte is not free living.
c. the main plant body is haploid.
d. spores germinate to produce gametophyte
e. sex organs are unicellular
1. 3
2. 5
3. 4
4. 2
2.
Find out the correct combination of algae and the life cycle they follow:
1. Kelps, Fucus - haplo-diplontic.
2. Volvox, Spirogyra - haplontic.
3. Chlamydomonas, Ectocarpus - diplontic.
4. Polysiphonia, Volvox - diplohaplontic.
3.
Find out the A, B, C, D, E in the given diagram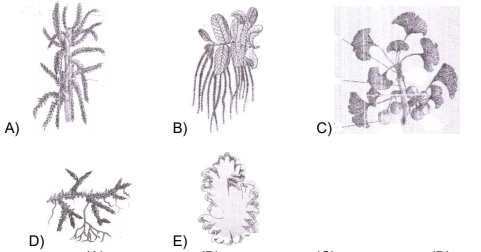 4.
Match the following
(A) Wolfia (i) Microscopic angiosperm
(B) Eucalyptus (ii) Tall angiosperm
(C) Sequoia (iii) Tall gymnosperm
(D) Ectocarpus (İv) filamentous algae.
(1) A- i, B-iii, C- ii,D- iv
(2) A-iii, B-ii, C-i, D-iv
(3) A-i, B-ii, C-iii, D-iv
(4) A-iii, B-iv, C-ii, D-i
5.

Which of the following statement is wrong for gymnosperm?
(1) They are heterosporous.
(2) The multicellular female gametophyte is retained within megasporangium.
(3) Pollen grain is released from the microsporangium and carried by water current which come in contact with ovules.
(4) The male and female gametophytes do not have an independent free living existence.
6.
In green algae
1. Chloroplast may be discoid, plate-like, reticulate cup-shaped, spiral, or ribbon-shaped in different species.
2. Cell wall made of an inner layer of cellulose and outer layer of pectose.
3. Asexual reproduction is by flagellated zoospores
4. All of these

7.
Uses of different plants are given below. Find out one of the options that is incorrect:
(1) Gelidium and Gracilaria - grow microbes and in preparation of icecreams and jellies

(2) Sphagnum - peat and packaging material for transshipment.

(3) Pteridophytes - medicinal purposes, soil binders and ornamentals.

(4) Chlorella and Spirullina - rich in vitamins and used as food supplements even by space travellers.
8.
Which of the following statements is true for Pinus?
1. Roots have an algal association in the form of mycorrhiza
2. male and female strobilli borne on the same tree
3. Both 1 and 2
4. Roots are called coralloid roots
9.
choose the correct sequence in the life cycle of angiosperms
(1) Pollination Pollen grain germinationpollen tube enters embryo discharge male gametes Double fertilization
(2) Pollen grain germination pollination discharge male gametepollen tube enters embryo sac zygote formation
(3) pollination meiosis in pollen grainpollen tube enters ovary discharge male and female gametes zygote formation
(4) Discharge male gametesPollen tube forms pollination zygoteembryo.
10.
Mark the wrong statement about cycas
(1) stems are unbranched
(2) Pinnate leaves persist for few years.
(3) Roots associated with cyanobacteria
(4) male and female cones borne on same tree
11.
Given are the statements regarding the group of those plants to which Funaria belongs. Which of them is incorrect?
(1) Sporophyte is more elaborate than that in the group of those plants to which Marchantia belongs.
(2) Have elaborate mechanism of spore dispersal.
(3) vegetative reproduction is by fragmentation and budding in secondary protonema.
(4) second stage is leafy stage which develops from spore.
12.

Structures found in sporophyte of Funaria are:
a) Capsule
b) Holdfast
c) Foot
d) Frond
e) stipe
f) Seta
(1) a,c,f
(2) b,c,e
(3) a,d,e
(4) c,e,f
13.
The correct match on the basis of type of reproduction is
(1) Volvox, Chlamydomonas- Isogamous
(2) Fucus, Volvox- Oogamous
(3) Spirogyra, Fucus- Anisogamous
(4) Spirogyra, Chlamydomonas - Anisogamous
14.
Cytotaxonomy includes
1. All vegetative and sexual characteristics of flowering plants
2. Cytological information like the presence of proteins, amino acids and metabolic products in cells
3. Details of chromosomes number, structure and behavior
4. Evolutionary evidences of DNA structures
15.
How many statements among the given, are true for the phylogenetic classification system
a. It assumes that organisms belonging to the same taxa have a common ancestor
b. This classification was proposed by George Bentham and Joseph Dalton Hooker
c. It is based on evolutionary relationships between various organisms
d. It consider hundreds of characters at the same time
e.This classification supports when no fossil evidence is available options
(1) e
(2) d
(3) c
(4) b
16.
Classification system which was given by Linnaeus and was based on androecium structure was
1. Artificial classification system
2. Natural classification system
3. Cytotaxonomy
4. Chemotaxonomy
17.
In which group of algae, frond is present?
1. Dictyota, Fucus, and Laminaria
2. Polysiphonia, Porphyra & Laminaria
3. Chara, Fucus and Laminaria
4. Dictyola, Porphyra, Polysiphonia
18.
State the number(s) of the correct statement(s) regarding commercial use of algae
(i) A large number of water-holding substances as algin and carrageen is produced by marine red and brown algae
(ii) Agar which is used to grow microbes and in preparations of ice-creams and jellies is obtained from Gelidium and Gracilaria.
(iii) Polysiphonia, Laminaria & Sargassum are those species of freshwater algae that are used as food.
(iv) Chlorella and Spirulina are rich in proteins and used as food supplements by space travelers Options are :
(1) 1
(2) 2
(3) 3
(4) 4
19.
Characteristics given below are represented by which class of algae?
(i) The plant body is attached to the substratum by holdfast, has a stalk-the stipe and leaf like photosynthetic organ-the frond.
(ii) Asexual reproduction by biflagellate zoospores and sexual reproduction by isogamous, anisogamous, or oogamous type.
(iii) They possess chlorophyll a, c, carotenoids, and fucoxanthin pigments.
Options :
(1) Chlorophyceae
(2) Phaeophyceae
(3) Rhodophyceae
(4) Common features of Phaeophyceae and Rhodophyceae
20.
Which of the following statement is correct?
(1) Phaeophyceae stored food material is complex carbohydrates in the form of laminarin or mannitol and is very similar to amylopectin and glycogen in structure.
(2) Sexual reproduction in Rhodophceae is the monogamous type and accompanied by complex post fertilization developments.
(3) Members of Chlorophyceae are usually grass green due to the dominance of pigments chlorophyll a, b, and c, which are localized in different shaped chloroplasts such as discoid, plate-like, cup-shaped, spiral or ribbon-shaped.
(4) Pyrenoids are storage bodies present in chlorophyecae contain starch and oil droplets.
21.
Which among the following is not the characteristic of bryophytes?
(1) Bryophytes can live in soil but are dependent on water for sexual reproduction
(2) Bryophytes are thallus-like and prostrate or erect and attached to the substratum by unicellular or multicellular rhizoids
(3) Half of the carbon dioxide fixation on earth is carried out by bryophytes through photosynthesis
(4) The main plant body is haploid, and occur in damp, humid and shaded localities
22.
The sex organs in bryophytes are (1) .............. The male sex organ is called (2)..................... which produces (3) .................. The female sex organ called (5).............................is (6) ........................... and produces ................. egg(s)
Options :


23.
Choose the incorrect economic importance of bryophytes.
(1) They are primary producers of energy-rich compounds and form the basis of the food cycle of all aquatic animals
(2) Mosses along with lichens decompose rocks making the substrate suitable for the growth of higher plants.
(3) They reduce the impact of falling rain and prevent soil erosion.
(4) They are used as fuel
24.
Gemmae are
(1) Multicellular, asexual buds, located on the antheridia branch
(2) Unicellular, asexual buds, located on the archegonial branch
(3) Multicellular, asexual buds, located on the dorsiventral thallus
(4) Unicellular, green buds which develops in receptacles called gemma cup located on the thallus
25.
Statements are given below regarding mosses. Choose the incorrect statements.
(i) Protonema stage is creeping, branched, a filamentous stage which develops directly from a spore
(ii) As a lateral bud from secondary protonema develops the leafy stage which bears spirally arranged leaves
(iii) Mosses have multicellular and branched rhizoids
(iv) Sex organs antheridia and archegonia are produced at the apex of the protonema
(v) After fertilization, the zygote develops into a sporophyte, consisting foot, seta and capsule
(vi) The capsule contains spores which are formed after meiosis.
Options :
(1) 1
(2) 2
(3) 6
(4) 3
26.
Which among the following pteridophytes has compact structure strobili formed by sporophylls as well as it shows heterospory?
                            

(1) [A]
(2) [B]
(3) [C]
(4) All the above
27.
(i) Roots of ...................... have a fungal association in the form of mycorrhiza while in .................. coralloid roots are associated with N2-fixing cyanobacteria.
(ii) The stem is unbranched in .................... and branched in
(iii) The leaves are pinnate .... and needle-like in
(1) (i) Pinus, Cycas
(ii) Pinus, Cycas
(iii) Cycas, Pinus
(2) (i) Pinus, Cycas
(ii) Cycas, Pinus
(iii) Cycas, Pinus

(3) (i) Cycas, Pinus
(ii) Cycas, Pinus
(iii) Pinus, Pinus
(4) (i) Pinus, Cycas
(ii) Cycas, Pinus
(iii) Cycas, Pinus

28.
Find out true statement(s) among these regarding angiosperms.
A. The embryo-sac formation in angiosperms is preceded by meiosis.
B. The dicotyledons angiospermic plants have two cotyledons in their ovary while the monocotyledons have only one
C. They range in size from very tine such as microscopic Wolfia to tall trees of Sequoia (over 100 metres)
D. Each embryo-sac has a seven celled egg apparatus i.e. one egg cell, two synergids, three antipodal cells and one secondary nucleus [carrying two polar nuclei]
E. The pollen grains germinate on the stigma and the resulting pollen tubes grow through the style and reach the ovule

(1) A,B,C and E
(2) A,C and D
(3) B and D
(4) A and E
29.
Events syngamy and double fertilization are best expressed respectively by the statement
1. One male gamete fuses with the diploid secondary nucleus and other male gamete fuses with the egg cell
2. One male gamete fuses with another male gamete fuses with the secondary nucleus.
3. One male gamete fuses with the egg cell and another male gamete fuses with synergies to make the secondary nucleus
4. One male gamete fuses with egg apparatus cells and another male gamete fuses with primary endosperm nucleus
30.
In the given figure, how many structures are haploid?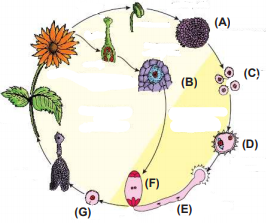 (1) 2
(2) 3
(3) 4
(4) 5
31.
Which among the following is/are the life cycle pattern of gymnosperms?



(1)  A
(2)  B
(3)  C
(4)  All of these
32.
Examine the figures A, B, C, D. In which one of the four options all the items A, B, C and D are correct.
             


33.
Asexual reproduction occurs by the production of different types of spores in algae. The most common type of spore is-
1. Aplanospore
2. Zoospore
3. Hyphospore
4. Chlamydospores
34.
Match the column I with column II
Column I Column II
A. Agar I. Gelidium, Gracilaria
B. Algin II. Brown algae
C. Carrageen III. Green algae
D. Chlorella & Spirullina IV. Red algae
Choose the correct combination
(1) A-I, B-II, C-IV, D-III
(2) A-IV, B-III, C-II, D-I
(3) A-II, B-I, C-III, D-IV
(4) A-III, B-II, C-I, D-IV
35.
In aquatic ecosystems which one(s) is of paramount importance as a primary producer in feed chain?
1. Algae
2. Angiosperms
3. Pistia
4. Gelidium
36.
Green algae have a cell wall made up of
1. The outer layer of pectose and the inner layer of cellulose
2. The inner layer of pectose and outer layer of cell wall
3. Cellulose+Algin
4. Cellulose+Peotidoglycan
37.
Which one is correct about sexual reproduction in brown algae?
1. Sexual reproduction may be isogamy anisogamy or oogamy
2. In isogamy and oogamy fertilization is external (in water)
3. In oogamy, fertilization occurs in oogonium
4. All are correct
38.
Choose the correct option
1. In bryophytes sexual reproduction in oogamous type
2. Sex organs are unicellular in algae and fungi but multicellular in bryophytes to angiosperms
3. Acrchegonium is flask-shaped
4. All
39.
Mosses are of great ecological importance because of
1. Its contribution to prevent soil erosion
2. Its contribution in ecological succession
3. Both
4. Its capability to remove CO from the atmosphere
40.
In mosses, gametophyte has 2 stages. What are these stages?
1. stage is the sporogonium phase and protonema stage
2. stage is protonema and the second stage is leafy stage
3. stage is gemmae formation and one is meiosis
4. stage is zygote and one is Spore mother cell
41.
You are given an unknown plants to study in the laboratory. You find that it has chlorophyll, no xylem. Its multicellular sex organs are enclosed in a layer of jacket cells. Its gametophyte stage is free living.
The plant probably belongs
1. Chlorophyceae
2. Bryophyte
3. Pteridophyte
4. Gymnoperm
42.
Examine the figures (A-D) given below and select the right option out (a) - (d), in which all the four items A, B, C and D are identified correctly.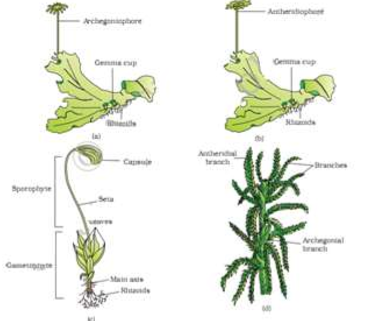 43.
Plant body in pteridophyte is
1. A sporophyte (2N) having no root, stem, and leaf
2. Gametophyte (N) having root stem and leaf
3. Gametophyte having no root stem and leaf
4. Sporophyte (2N) having true root, stem and leaf
44.
Leaves bearing sporangium are sporophyll. In some pteridophytes, sporophylls form a compact structure called
1. Sporocarp
2. Strobilus or cone
3. Spike
4. Flower
45.
Which one is correct about heterophoria pteridophytes?
1. Microspore and megaspores develop into the male and the female gametophytes respectively
2. The female gametophyte are retained on the parent sporophyte for a variable period
3. The development of the zygote into the embryo takes place within female gametophyte
4. All
46.
Which one is not the characteristic of Cycas?
1. Unbranched stem
2. Compound leaves (pinnate)
3. Dioecious (male and female cone on separate plants)
4. Non-archegoniate
47.
Which one is correct about male and female gametophyte?
1. In bryophytes and pteridophytes, they have independent free-living existence
2. In gymnosperms and angiosperms, they have no independent free-living existence
3. Both (1) and (2)
4. In bryophytes, pteridophytes, and angiosperms they have free-living life. They remain in sporangia which retained on sporophytes
48.
In gymnosperm male gametophyte
1. Is highly developed
2. Has an independent life
3. Is highly reduced and confined to only a limited number of cells
4. Is produced in macrosporangiate cone
49.
In gymnosperms, pollination takes place by
1. Wind
2. Water
3. On-ovary
4. Micropyle end of ovule
50.
A system of classification in which a large number of traits are considered is
1. Artificial system
2. Phylogenetic system
3. Synthetic system
4. Natural system

*If above link doesn't work, please go to test link from where you got the pdf and fill OMR from there
CLICK HERE
to get FREE ACCESS for 2 days of ANY NEETprep course