1.
Find the incorrect match
1. Neurospora - Biochemical and genetic work
2. Penicillium - Source of antibodies
3. Saccharomyces - to make bread and beer
4. Diatoms - Polishing, filtration of oil and syrups
2.
What is true for the fungi in which perfect stage is not known?
1. Some members are saprophytes or parasites
2. Once perfect stage were discovered they were often moved to ascomycetes or basidiomycetes
3. large number of them are decomposers of litter and help in mineral cycling
4. All of them
3.
What is the similarity between Alternaria, morels and buffles? Choose answer from a, b, c, d
a. mycelium is branched and septate
b. Asexual spores are conidia
c. They all belong to ascomycetes
1. (1), (2)
2. (2), (3)
3. (1), (3)
4. All of them
4.
Match the scientist with their contribution:
(A) D. J. Ivanowsky (i) Demonstrated extract of the infected plant of tobacco could cause infection in healthy plants
(B) W. M. Stanley (ii) discovered new infectious agent that was smaller than viruses
(C) T. O. Diener (iii) Showed viruses could be crystallized and crystals consist largely of proteins
(D) M. W. Beijerinek (iv) recognized certain microbes or causal organism of the mosaic disease of tobacco.

(1) A−l, B−iii, C−ii, D−iv
(2) A−iv, B−ii, C−ii, D−i
(3) A−iv, B−l, C−ii, D−iii
(4) A−l, B−iv, C− iii, D−ii
5.
Which of the following form the basis for the division of kingdom fungi?
a. mode of nutrition
b. morphology of mycelium
c. site of occurrence
d. mode of spore formation
e. method of sexual reproduction
f. fruiting bodies
1. l, iv, vi
2. l, ii, iv
3. ii, iii, v
4. ii, iv, vi
6.
Member of which group are found in aquatic habitats and on decaying wood in moist and damp places or as obligate parasites
1. Ascomycetes
2. Deuteromycetes
3. Phycomycetes
4. Basidiomycetes
7.
Find out the set of correct statements for the given diagram.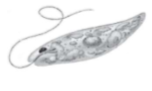 (i) protein rich layer called pellicle make their body flexible
(ii) though they are photosynthetic but when deprived of sunlight they behave like heterotrophs
(iii) Pigments in them are identical to those present in plants
(iv) They have two equal flagella

(1) 1,2,3
(2) 2,3,4
(3) 1,2,4
(4) 1,3,4
8.
What is the appropriate sequence of sexual cycle for the members of puffballs's group? The representations given below
(i) Karyogamy
(ii) Meiosis
(iii) Dikaryophase
(iv) Ascospores
(v) Plasmogamy
(vi) Basidiospores

(1) v−i−iii−ii−iv
(2) v−iii−i−ii−vi
(3) v−i−iii−ii−vi
(4) v−iii−i−ii−iv
9.
Which spores are produced after asexual reproduction in Phycomycetes?
1. sporangiospores, oospores
2. aplanospores, zoospores
3. Zygospores, oospores
4. aplanospores, zygospores
10.
Label A, B, C, D in the given diagram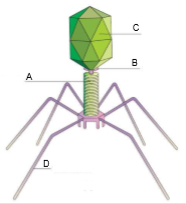 11.
Which of the following is the symptom in plants due to viral infection?
1. Leaf rolling and curling
2. Yellowing and vein clearing
3. Dwarfing and stunted growth
4. All of these
12.
How many characteristics are present in the group to which Gonyaulax belongs?
a. Mostly marine and photosynthetic
b. members appear either green or golden depending on the pigment in the cell
c. Cell wall has stiff cellulose plates
d. most of them have two flagella one lies longitudinally and the other transversely
1. 2
2. 3
3. 4
4. 1
13.
Given below are the four statements regarding virus. Which of them is incorrect?
1. In general, viruses that infect plants have single stranded RNA and bacteriophages are usually double stranded DNA viruses
2. Capsomeres, are arranged in helical or polyhedral geometric forms
3. have inert crystalline structure outside the living cell
4. Cause disease like AIDS, common cold, and potato spindle tuber disease
14.
Give one word for the following from the given options



(1) Chief producers in oceans
(2) Very good pollution indicators
(3) Association of fungi with roots of higher plants
(4) Fruiting body of ascomycetes
15.
Flexible body of euglenoids is due to the presence of
1. Proteinaceous cell wall
2. Proteinaceous pellicle
3. Lipoidal pellicle
4. Lipoidal cell wall
16.
In saprophytic protists reproductive structure like spores are ___________ cell wall and somatic phase is _______ cell wall
1. With, Without
2. Without, with
3. With, with
4. Without, Without

17.
What is the origin of asexual spore and sexual spores produced in members os ascomycetes respectively/
1. Exogenous, Endogenous
2. Endogenous, Exogenous,
3. Endogenous, Endogenous
4. Endogenous, Endogenous
18.
Once the perfect stages of members of deuteromycetes were discovered why were often moved to either
1. Oomycetes and Zygomycetes
2. Basidiomycetes and Ascomycetes
3. Phycomycetes and Zygomycetes
4. Ascomycetes and Oomycetes
19.
Morels and Agaricus have edible fruiting bodies and belong to their respective class as
1. Ascomycetes and Basidiomycetes
2. Basidiomycetes and Ascomycetes
3. Ascomycetes and Phycomycetes
4. Basidiomycetes only
20.
Select incorrect option w.r.t. BGA and bacteria
1. Both are prokaryote
2. BGA is not motile in any stage of life but bacteria can be motile
3. Heterocyst are formed in few BGA for nitrogen fixation and it is not formed in bacteria
4. BGA and bacteria both can be autotrophic and heterotrophic
21.
Bacteria reproduce mainly by ____________ during __________ conditions
1. Fission, unfavourable
2. Spore, favourable
3. Fission, favourable
4. Motile spore, unfavourable
22.
Two kingdom classification system differentiated well between
1. prokaryotic and eukaryotic organisms
2. Autotrophic and heterotrophic organisms
3. Unicellular and multicellular organisms
4. With waa and wall-less organisms

23.
Sexual spore produced in the life cycle of fungi is
1. Sporangiospore
2. Basidiospore
3. Chlamydospore
4. Conidia

24.
Fungi prefer to grow in
1. Cool and humid conditions
2. Warm and humid places
3. Cool and dry places
4. Dry and organic rich soil
25.
Citrus canker is ................ disease
1. Bacterial
2. Viral
3. Fungal
4. Mycoplasma
26.
Identify the blanks in the following figure :-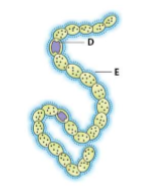 A dividing Bacteria Nostoc


(1) A− Cell wall, B− Cell membrane, C− Heterocyst, D− DNA, E− Mucilagenous sheath
(2) A− Cell wall, B− Cell membrane, C−DNA, D− Heterocyst, E− Mucilagenous sheath
(3) A− Mucilagenous sheath, B− Cell membrane, C− DNA, D− Heterocyst, E− Cell wall
(4) A− Cell membrane, B - Cell wall, C− DNA, D− Heterocyst, E− Mucilagenous sheath
27.
Dinoflagellates have
1. A single flagellum in the transverse
2. A single flagellum in the longitudinal groove between the cell plates
3. Two flagella one lies longitudinally and the other transversely in a furrow between the wall plates
4. No flagella

28.
Cell walls of all fungi consists of the polysaccharide
1. Chitin
2. Cellulose
3. Silica
4. Pectin
29.
Match the following Column I with Column II



(1) A - II, B - I, C-IV, D-III
(2) A - II, B - IV, C - I, D - III
(3) A - IV, B - I, C - II, D - III
(4) A - IV, B - III, C - II, D - I
30.
License are composite organism made up of a fungus and a photosynthetic alga. Which of the following statements is wrong about lichen?
1. Lichens are sensitive to air pollution because they have no way to excrete toxic substances
2. Algal partner (phycobiont) and fungal partner (mycobiont) live mutually
3. Algae prepare food for fungi and fungi provide shelter and absorb water+minerals for algal partner
4. None of these
31.
Study the diagram given below and mark the correct option.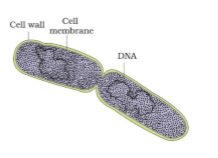 (A) It is two bacterial cell undergoing conjugation
(B) It is main mode of reproduction in bacteria
(C) It is bacteria undergoing fission
(D) It is structure formed by bacterium under unfavorable conditions

(1) A and B is correct
(2) B and C is correct
(3) C and D is correct
(4) A and D is correct
32.
Following four are statements related to bacterial reproduction, find out incorrect statement.
1. Under unfavorable conditions they produce spore
2. They also reproduce by a sort of sexual reproduction
3. They have advance type of DNA transfer mechanism
4. Bacteria mainly reoriduce by fission
33.
Out of the following four statements which of the two statements are incorrect with respect to heterotrophic bacteria.
a. They are most abundant in nature
b. Most of them are producer
c. Some of them are pathogenic
d. They have no beneficial activity
1. 2 and 3
2. 2 and
3. 1 and 2
4. 1 and 4
34.
What is the similarly between bacteria involved in curd making, antibiotic production, nitrogen fixation.
1. All of them are chemoautotroph
2. All of them are heterotroph
3. All of them are chemosynthetic
4. All of them are flagellated
35.
The soil which is used in polishing filtration of oils and syrups are made of
1. Cellulosic plates on the surface of Dinoflagellates.
2. Cell body of desmids.
3. Cell wall of cryophytes.
4. Extremely resistant spores of slime moulds.

36.
Study the diagram given below, which group of bacteria can be motile.

(1)



(2)



(3)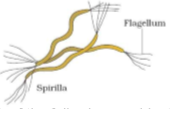 (4)

37.
Which of the following is not true about bacteria.
1. Vert simple in structure but complex in behavior
2. They show extensive metabolic diversity
3. They are present only in simple condition
4. Most of them are heterotrophs
38.
Which of the following statement is not correct about different classification systems?
1. Plant and animal kingdoms have been constant under all different systems
2. understanding of what groups/organisms be included under these kingdoms have been changing.
3. Number and nature of other Kingdoms have also been understood differently by different scientists over time
4. Once an organism is placed to one kingdom than its position is permanent
39.
According to give kingdom classification which of the following grouping is not correct
1. Chlamydomonas and Yeast
2. Yeast and chlorella
3. Chlamydomonas and chlorella
4. Chlorella and Spirulina
40.
Classification undergoes constant modification this is due to
a. New evidences from different source
b. Improvement in our understanding of characteristics and evolutionary relationship
c. Dynamic nature of living organism with respect to time
d. Country specific nature of classification.
1. 1 and 2
2. 1 and 3
3. 2 and 3
4. 3 and 4
41.
In R.H. Whittaker five kingdom classification how many kingdom includes heterotrophic organism and how many kingdom includes autotrophic organisms
1. 3, 2
2. 4, 3
3. 5, 2
4. 2, 3
42.
Feature which is responsible for the survival of archaebacteria in extreme condition is.
1. Their spiral shape and flagella
2. Heterocyst
3. Mucilaginous sheath
4. Cell wall
43.
Which statement is incorrect for slime moulds?
1. Slime moulds form an aggregation called plasmodium which can spread over many feet.
2. Slime moulds are saprophytic protists and move along decaying twigs to engulf organic material.
3. plasmodium forms fruiting bodies bearing spores at their tips under unfavourable conditions.
4. Spores possess true chitin wall, extremely resistant and dispersed by water current
44.
Which statement (s) is/are not true for five kingdom classification proposed by
R.H.Whittaker [1969].
(A) The main criteria for classification used by him includes cell structure, thallus organization, mode of nutrition, reproduction and phylogenetic relationship.
(B) Chlamydomonas, Chlorella and spirogyra are placed in Algae within plants due to presence of cell wall.
(C) Fungi are placed in a separate kingdom - kingdom fungi.
(D) Paramecium and Amoeba are placed in animal kingdom due to lack of cell wall.
(E) All prokaryotic organisms such as bacteria, blue green algae and ferns are grouped together under kingdom Monera.
Options:

(1) Only A
(2) A, B and D
(3) A, D and E
(4) B, D and E
45.
Which of the following combination (s) is incorrect?



(1) A & B
(2) A & C
(3) A & D
(4) B & C
*If above link doesn't work, please go to test link from where you got the pdf and fill OMR from there
CLICK HERE
to get FREE ACCESS for 2 days of ANY NEETprep course