1.
What are the components of the transport system in human beings? What are the functions of these components?
2.
Why is it necessary to separate oxygenated and deoxygenated blood in mammals and birds?
3.
What are the components of the transport system in highly organised plants?
4.
How are water and minerals transported in plants?
5.
How is food transported in plants?
6.
What would be the consequences of a deficiency of haemoglobin in our bodies?
7.
Describe double circulation in human beings. Why is it necessary?
Or
Why is blood circulation in human heart called double circulation?
8.
The xylem in plants are responsible for
1. transport of water
2. transport of food
3. transport of amino acid
4. transport of oxygen
9.
What are the differences between the transport of materials in xylem and phloem?
Or
How is transportation of water in xylem tissue different from translocation of food in phloem tissue?
10.
State the role and function of the following.
(i) Blood
(ii) WBC
11.
Why SA node is known as the pacemaker of heart?
12.
Complete the following table:

13.
Write the functions of two upper chambers of human heart.
14.
What makes red blood corpuscles red?
15.
Why are values present in heart and veins?
16.
Why the walls of ventricles are thicker than the walls of atria?
17.
What will happen according to you, of platelets are not present in the blood?
Or
What will happen if platelets were absent in the blood?
18.
Leakage of blood from vessels reduces the efficiency of pumping system. How is the leakage prevented?
19.
Which mechanism plays an important role in transport of water in plants?
(i) During daytime
(ii) At night
20.
Draw a labelled diagram of the pumping machine in human beings.
21.
In the given diagram that shows a vertical section through the human heart, which structure separates out the oxygenated blood from deoxygenated blood.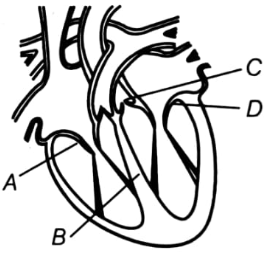 22.
Explain why do multicellular organisms need a transportation system for carrying food and oxygen?
23.
Enumerate the differences between lymphatic capillaries and blood capillaries.
24.
What is the advantage of having four-chambered heart?
25.
Write a function of (i) blood vessels (ii) blood platelets.
26.
During one cycle, how many times does blood go to the heart of fish and why?
27.
Mention the two main components of the transport system in plants. State one function of each one of these components?
28.
From where do roots obtain water and minerals?
Or
How are water and minerals absorbed by the plant?
29.
State the role played by transpirational pull in transportation?
30.
What do the following transport?
(i) Xylem
(ii) Pulmonary artery
(iii) Pulmonary vein
(iv) Phloem
31.
What are capillaries? State the function performed by them?
32.
The body temperature of some organisms depends on the temperature of the environment. Comment.
33.
Only deoxygenated blood is pumped through a fish's heart. Is it true? Justify your answer.
34.
Which plant part needs the sugar stored in root or stem tissue in spring season?
35.
Explain, why transportation of materials is necessary in animals?
36.
List out various components of blood along with their functions.
37.
Why do veins have thin walls as compared to arteries?
38.
In mammals and birds, why is it necessary to separate oxygenated and deoxygenated blood?
39.
List the features of RBCs as the carrier of oxygen.
40.
What is the differences between arteries, veins and capillaries?
Or
List in tabular form, three differences between arteries and veins.
Or
Differentiate between an artery and a vein.
41.
Write the function of each of the following components of the transport system in human beings:
(i) Blood vessels
(ii) Lymph
(iii) Heart
42.
State reason for the following:
(i) Arteries have thick and elastic walls
(ii) Arteries form capillaries
43.
(i) Transport of food in plants requires living tissues and energy. Justify this statement.
(ii) Name the components of food that are transported by the living tissues.
44.
Why and how does water enter continuously into the root xylem?
45.
What is 'translocation'? Why is it essential for plants? Where in plants are the following synthesised?
(i) Sugars (ii) Hormones
46.
What is translocation? How does it take place in plants?
47.
(i) Draw a schematic representation of transport and exchange of oxygen and carbon dioxide during transportation of blood in human
     beings and label following parts on it.
     Lung to capillaries, pulmonary artery to lungs, aorta to body, pulmonary veins from lungs.
(ii) What is the advantage of having separate channels of heart for oxygenated and deoxygenated blood in mammals and birds?
                                                                                           Or
      What is the advantage of having four-chambered heart?
48.
Describe the flow of blood through the heart of human beings.
49.
What is the functional difference between four-chambers of the heart?
50.
(i) What do you understand by transpiration?
(ii) What is the role of transpiration in transportation? Explain with diagram.
(iii) Which plant part helps in unidirectional flow of water?
51.
Draw the sectional view of human heart and label the following parts given below:
(i) Chamber where oxygenated blood from lungs is collected.
(ii) Largest blood vessel in our body.
(iii) Muscular wall separating right and left chambers.
(iv) Blood vessel that carries blood from heart to the lungs.
                                                               Or
(i) Part which receives deoxygenated blood from vena cava.
(ii) Part which sends deoxygenated blood to lung through pulmonary artery.
(iii) Part which receives oxygenated blood from lungs.
(iv) Part which sends oxygenated blood to all parts of the body through aorta.
                                                               Or
(i) The chamber of heart that pumps out deoxygenated blood.
(ii) The blood vessel that carries away oxygenated blood from the heart.
(iiii) The blood vessel that receives deoxygenated blood from the lower part of our body.
52.
For observing transpiration in plants, a student prepared the setup and placed it in a cool and shady area and what will his observations be?
53.
If a student has kept a plant to observe transpiration. How will he/she recognist that process is laking place?
54.
Does evaporation play a role in the occurrence of transpiration? How?
55.
If we want to observe the transpiration process in plants, what are the basic requirements?
56.
Sunaina was travelling with her family by car. While moving on the way, they saw a biker on the road who was bleeding profusely. Her mother asked Sunaina's father to stop the car and help the person. Her father however, did not stopped as he feared that they would have to deal with the police enquiry, if they would stop.
Read the above passage and answer the following questions.
(i) What happens, if a person bleeds profusely?
(ii) What will you do, if the hospital refuses to provide treatment unless the accident case is registered by police?
(iii) What values were shown by Sunaina's mother?
57.
Prateek, an employee in MNC, planned to organise a blood donation camp in his office with support of red club society. He motivated everybody in his office to participate in the good cause by donating blood.
He also explained them that the donated blood will be stored in blood bank to be used whenever needed by patients.
Read the given passage and answer the following questions.
(i) Why the camp was organised?
(ii) How the blood is prevented from clotting in the blood bank?
(iii) What values are shown by Prateek?
*If above link doesn't work, please go to test link from where you got the pdf and fill OMR from there
CLICK HERE
to get FREE ACCESS for 2 days of ANY NEETprep course